Stuart W. Rapp, Attorney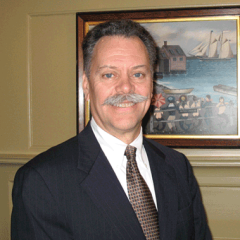 Stuart W. Rapp, Esquire, is the principal of the Law Offices of Stuart W. Rapp located in Barnstable (Osterville) Massachusetts. Stuart concentrates his law practice in the areas of Trusts and Estates, Estate and Tax Planning, Elder Law, Conservatorships, Guardianships, Estate and Gift Tax Planning, Probate Administration and Litigation, Succession Planning and Charitable Giving. Stuart has concentrated his practice in these areas since his admission to the Massachusetts Bar in 1988.
Stuart W. Rapp's philosophy is to provide his clients with the most cost effective and comprehensive service in the firm's many practice areas to best accomplish the goals of his clients.
Stuart is regularly appointed guardian ad litem by Massachusetts Probate Courts and has served as a Barnstable County Superior Court conciliator who has privately mediated complicated Superior Court matters.
See peer reviews for Attorney Stuart W. Rapp.
Cindy A. Civetti
Cindy A. Civetti has been employed by Stuart W. Rapp and the Law Offices of Stuart W. Rapp since 1998 and has over twenty-two years of experience in the legal field.
Cindy is the estate planning legal assistant and she assists Attorney Rapp with all aspects of preparing, executing, and implementing estate planning documents such as the preparation of and drafting of estate planning documents, including Last Wills, Durable Powers of Attorney, Health Care Proxies, HIPAA Authorizations, Trustee's Certificates, Deeds, and Declaration of Homesteads, Irrevocable Life Insurance Trusts, Revocable Trusts, and Advance Directives. A large part of Cindy's role in the Law Office is to work with our clients to align their assets in accordance with their estate plan. This includes but is not limited to the preparation of deeds, transferring real estate to trusts, Homesteads, recordings at the registry of deeds, and assisting clients and their investment representatives to be sure that IRA beneficiary designations, life insurance policies and the like all match up with the plan.
Cindy assists Attorney Rapp in all aspects related to Guardianship and Conservatorship matters as is proficient with the Massachusetts Uniform Probate Code. Cindy also handles the firms and client's receivables and payables, manages the day to day operations of the office and is a Massachusetts Notary Public.